Brenda Mason, DNP, Joins Laurel Place
March 13, 2019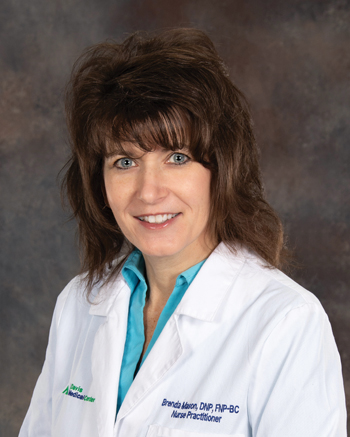 ELKINS, WV - Brenda Dilly Mason, DNP, APRN, FNP-BC, has joined Davis Medical Center's Laurel Place, as a Board Certified Nurse Practitioner bringing with her over 26 years of nursing experience.
Laurel Place is a new behavioral health unit for seniors located within Davis Medical Center in Elkins, WV.
In 1999, Mason earned a Master's Degree in the Science of Nursing from West Virginia University and a certification as a Family Nurse Practitioner from the American Nursing Credentialing Center. In 2012, she completed a Doctorate of Nursing Practice from University of Alabama.
Mason most recently served as the Director of Education for Davis Health System and has worked part-time the last 18 years as an APRN with West Virginia Caring, providing hospice, palliative and wound care to patients throughout West Virginia.
In addition, Mason taught nursing for ten years at Davis & Elkins College and fourteen years at Alderson Broaddus University and was the former Dean of Health Sciences at Alderson Broaddus University before coming to Davis Medical Center.
"Davis Medical Center is where I started my first job as a Registered Nurse in 1992 and I continued to return to DMC with nursing students for years. It is only fitting that I return to Davis Medical Center to finish my career as a nurse practitioner. I cannot think of a better place to be," Mason said.
Laurel Place opened in January, 2019, and is a 20-bed center for patients 55 and over with acute psychiatric or behavioral disorders. It is designed for short-term stays, with the goal of returning patients to where they live. It serves individuals coming from private residences, assisted living centers and nursing homes. It is fully accredited by the Joint Commission.
"I'm excited to share my skills in advanced practice nursing to directly help people in need," said Mason. "We treat a large and growing population of elderly patients. I am finding it tremendously rewarding."
Mason lives in Parsons, WV with her husband Joe. She has two sons; Mitchell is in the Doctorate of Physical Therapy program at Shenandoah University in Winchester, VA and Marcus is attending Fairmont State University pursuing an Accounting Degree with focus on becoming a Certified Public Accountant.